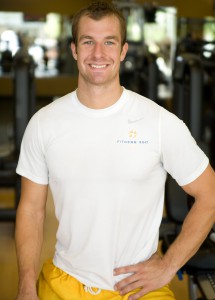 Joe Gernetzke
Joe holds a Bachelor's degree in Exercise Science from Marquette University and is a Certified Strength and Conditioning Specialist through the National Strength and Conditioning Association. Joe utilizes his education and experience to accurately determining the safest and most effective path of success for his clients. With his background in physiology and biomechanics, he designs and implements the most efficient, tailored training programs possible. Clients consistently have positive things to say about Joe's demeanor and skills. He is known for delivering high customer satisfaction by offering a workout experience that is not only scientifically and fundamentally sound, but also enjoyable. Joe comes to Fitness 360 with over four years of professional training experience. He worked in a number of different markets including, Milwaukee, WI, Columbus, OH, and New York City before finally settling in Austin a year and a half ago. In addition to providing high quality results to his clients, he is also responsible for new trainer development and FMS education.
Shruti Saran
Shruti is a graduate of the University of Michigan with a Biology degree and a comprehensive background in the life sciences. She is a Certified Personal Trainer through the National Academy of Sports Medicine (NASM). Shruti excels at developing tailored fitness programs that are enjoyable and sustainable. She understands that improved health and a better physique have a positive effect on all aspects of life and she is committed to providing clients with the motivation, tools and knowledge they need to achieve their personal fitness goals and inhabit their best bodies. She specializes in clients looking to reduce weight and body fat, achieve a more toned and sculpted physique and improve general performance. She enjoys applying her passion for health, fitness and nutrition toward developing unique programs for busy people who want to make the most out of every minute spent in the gym. At Fitness 360, Shruti will work with you to design an effective and technically sound training program that you find interesting, track your progress and performance metrics and provide you with the encouragement you need to achieve your long-term fitness goals.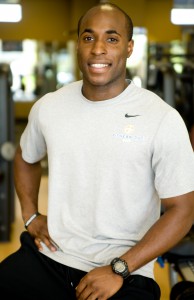 Nedu Egwuagu
Martin Chinedu Egwuagu Jr. ("Nedu") is a former walk-on safety for The University of Texas Longhorns Football Team. At UT, Nedu received a B.S. in Kinesiology and a minor in Biology. He is currently certified as a personal trainer under the American Council on Exercise (ACE). With a senior season capped off with a thrilling 24-21 victory against the Ohio State Buckeyes in the 2008 Tostitos Fiesta Bowl, Nedu understands that, with hard work and dedication, your dreams and goals will become reality. This has translated into a passion for fitness and a desire to educate others on the importance of fitness as a part of life. Nedu has been given the opportunity to learn under the guidance of Jeff "Mad Dog" Madden (Assistant Athletics Director for Strength and Conditioning for The University of Texas) and Bennie Wylie (Head Strength and Conditioning Coach for The University of Texas football team). Nedu has worked with athletes ranging from all over (Football, Volleyball, Basketball, Soccer, Track and Field, Tennis, Triathletes, Ballet Dancers, etc.). With over 4 years of experience, Nedu is a sure bet if you are looking to release the inner athlete, lose weight, tone up or take you fitness to the next level.